Find a Solid Defense for Sexual Solicitation in East Peoria IL
At Borsberry Law, there's never any judgment for the actions you might take. However, there is an understanding that specific actions might lead to the need for a solid legal defense. And when concerning sexual solicitation in East Peoria IL, this Is especially true. Thankfully, our legal team has handled various prostitution and solicitation cases in the Greater Peoria area. We can help build your defense to achieve the best possible outcome for your case.
Understanding Sexual Solicitation
Under Illinois law, Sexual Solicitation is the act of a person offering money or valuables to another person, who is not their spouse, in exchange for sexual acts. Additionally, the "physical" sexual acts do not need to be performed for someone to be charged with solicitation. If you, at minimum, engaged with someone with the intent of sexual solicitation, whether in person, via phone or online, you can be charged with a crime. As such, potential violations of sexual solicitation in Peoria IL include:
Class A Misdemeanor – First-time offenders can receive up to one year in prison and a max of $2,500 in fines.
Class 4 Felony – Sexual solicitation can turn into a felony if you are a repeat offender, engaged in solicitation less than 1,000 feet away from school property, solicited with a minor or solicited with someone with a profound intellectual disability. Penalties for a felony include three years max of prison time and up to $25,000 in fines.
Building Your Defense
Borsberry Law has handled dozens of sexual solicitation cases, with years of experience in criminal law for Central Illinois. As such, we can help you build your defense when fighting for your innocence in court. Guilty pleas not only come with legal penalties but a criminal record that makes finding a job, acquiring a loan or purchasing a home challenging. Thus, we utilize such defense strategies as: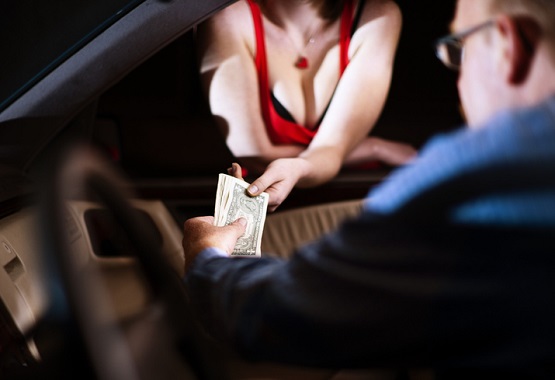 Proving a Lack of Evidence

Charges of sexual solicitation must be held to the highest standard of proof. So, if "evidence" isn't clearly defined or leaves room for doubt, a court is less likely to consider it relevant to your case.

Proving Entrapment

Police officers or undercover agents often attempt to catch people "in the act" of exchanging money for sexual acts. However, if attempts from undercover agents seek to coerce or aggressively press you into accepting a solicitation agreement, this can be classified as entrapment.

Proving a Misunderstanding

Sometimes, we make mistakes or have misunderstandings with others. If such a misunderstanding can be proven in court, the case for sexual solicitation can quickly fall apart. Common misunderstandings include accidentally accepting solicitation at a massage parlor, mistaking escort services as a date or relationship, etc.
Give Our Team a Call
Don't let charges of sexual solicitation in Peoria IL ruin your forward progression in life. Get the robust legal defense you require from the lawyers at Borsberry Law. Additionally, if you require counsel regarding criminal law, family law, DCFS, and other personal legal issues, call us at 309-637-9000 to set up a free consultation. Also, our office is located at 203 NE Jefferson St, Peoria, IL 61602.